How to get to La Clé des Champs ?
Car, train, plane... choose the solution that suits you best!
By car
By car, on the A7, direction Marseille, Exit 16 " Privas/Le Pouzin " or Exit 17 " Le Teil/Dieulefit ".
On the A7 direction Lyon, Exit 18 " Malataverne ".
Then follow the direction AUBENAS
By train
TGV stations
Montélimar train station - Rue Olivier de Serres - 26200 Montélimar
Valence TGV station - 26300 ALIXAN
By plane
Airports
Lyon Airport: www.lyonaeroports.com
Avignon airport : www.avignon.aeroport.fr
Nîmes airport : www.aeroport-nimes.fr
Aerodrome of Aubenas Southern Ardèche
Bus
Consult the maps and schedules of the departmental network online.
Carpooling
Why not choose an economical, ecological and solidarity-based solution? In addition to the numerous national carpooling websites, there is a simple and efficient solution in Drôme-Ardèche:
Other carpooling sites :
Cabs
ARDECH'TAXIS Boulevard De L'Europe Unie Bp 29, 07120 - RUOMS
04 75 39 61 21
Car rental
Avis Montelimar : SNCF Station - Rue Olivier de Serres - 26200 Montélimar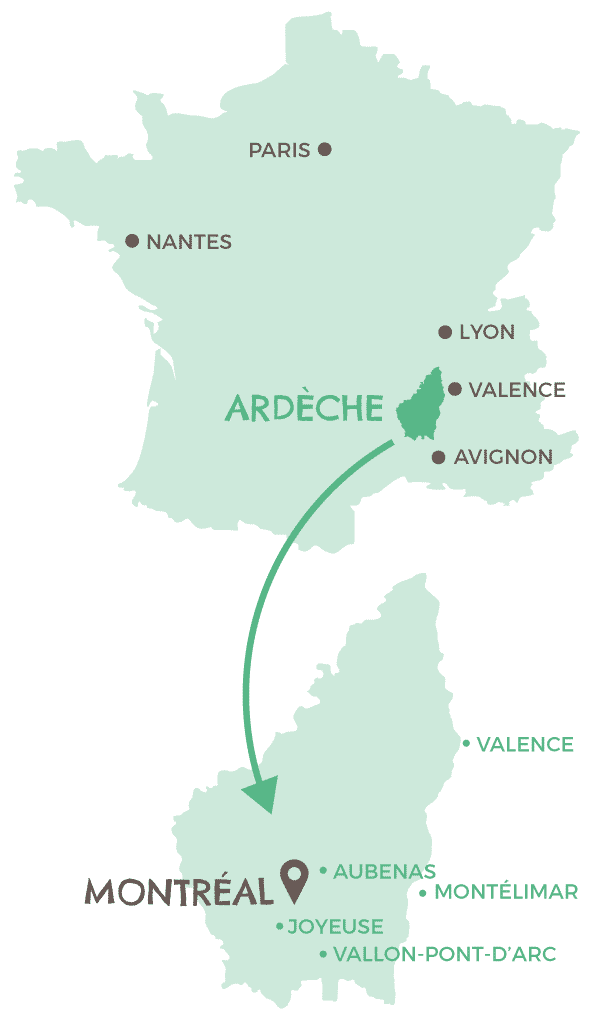 By car
Highway A7 (Autoroute du soleil) Exits Chanas (direction Annonay) Tain l'Hermitage (direction Tournon sur Rhône) Valence Nord and Valence Sud (direction Soyons, Charmes sur Rhône,...)
By train
TGV stations
Montélimar train station - Rue Olivier de Serres - 26200 Montélimar
Valence train station - 38 Rue Denis Papin - 26000 Valence
www.voyages-sncf.com
www.ouigo.com
By plane
Airports
Lyon Airport: www.lyonaeroports.com
Avignon airport : www.avignon.aeroport.fr
Nîmes airport : www.aeroport-nimes.fr
Aerodrome of Aubenas Southern Ardèche
Bus
Consult the maps and schedules of the departmental network online.
www.lesept.fr
Carpooling
Why not choose an economical, ecological and solidarity-based solution? In addition to the numerous national carpooling websites, there is a simple and efficient solution in Drôme-Ardèche:
www.ecovoiturage0726.fr
Other carpooling sites :
www.blablacar.fr
www.covoiturage-libre.fr
Cabs
ARDECH'TAXIS Boulevard De L'Europe Unie Bp 29, 07120 - RUOMS
04 75 39 61 21
www.taxi-saisse07.fr
Car rental
Avis Montelimar : SNCF Station - Rue Olivier de Serres - 26200 Montélimar